Instalacje oświetleniowe do klubu: urządzenia laserowe i wytwornice dymu
Montaż ekranów i oświetlenia LED
Szeroka gama dostępnych u nas urządzeń, takich jak głowice LED czy laserbary, pozwala stworzyć inteligentny system oświetleniowy. Pracę nad zleceniem rozpoczynamy od projektu, a następnie zajmujemy się produkcją i montażem oświetlenia, także typu LED. Wykonujemy instalacje oświetleniowe na indywidualne zamówienie klienta. Nasze usługi zawierają także realizację założeń i montaż gotowego systemu. Zapraszamy do zapoznania się z efektami prac w dziale REALIZACJE.
Jeśli poszukują Państwo rozwiązań uświetniających imprezę, to... świetnie! Zajmujemy się oprawą, która sprawdzi się zarówno w klubie, jak i na imprezie plenerowej. W naszej ofercie znajdują się:
ruchome głowy,
naświetlacze i reflektory,
ekrany LED,
oświetlenie LED,
laserbary,
lasery,
sterowniki, zasilacze,
panele, tuby LED,
wyrzutnie CO2,
wytwornice dymu,
oprogramowanie sterujące,
konsole sterujące,
projektory wideo,
systemy dystrybucji sygnału wideo w rozdzielczościach HD, UHD.
Dzięki użyciu tych urządzeń w instalacjach oświetleniowych możliwe staje się tworzenie niepowtarzalnych efektów, które wyróżniają nasze realizacje wśród konkurencji.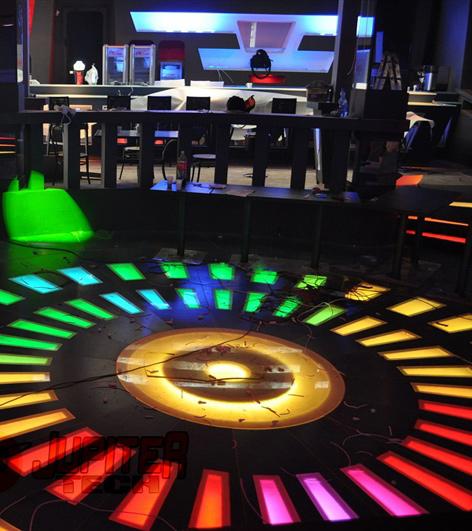 Kolorowe instalacje oświetleniowe
Piękne światła podczas zabawy wywrą pozytywne wrażenie i na długo pozostaną w pamięci uczestników imprezy. Ciekawe zaprojektowanie instalacji oświetleniowej oraz wykorzystanie takich wynalazków jak projektory laserowe czy systemy LEDowe to podstawa udanej imprezy. Nasze sterowniki do oświetlenia LED pozwalają na dostosowanie go do rytmu muzyki, co zapewnia swobodę w puszczaniu i remiksowaniu utworów. Zdobyte przez nas doświadczenie pozwoliło nam zauważyć, jak istotny dla klubów jest dobór odpowiednich kolorów oświetlenia. Klubowe światła, które proponujemy, wykonane są w modelu RGB (red, green, blue), dzięki czemu można cieszyć się, tak ważnymi dla tego typu miejsc, kolorowymi efektami. Do obsługi oświetlenia przystosowane są: projektor dyskotekowy, sterownik muzyczny i tuby oświetleniowe.
Montaż oświetlenia RGB i urządzeń ledowych
Istotny dla jakości oświetlenia jest jego montaż. Nasza firma zajmuje się nie tylko projektowaniem multimediów, ale też ich rozmieszczeniem. Wiedza i doświadczenie pozwalają na optymalne ulokowanie takich urządzeń jak ekran reklamowy, projektor wideo, a także montaż naświetlaczy LED i urządzeń laserowych. Wiemy, jak dostosować oświetlenie RGB do każdej imprezy. Ponadto podłączymy sterownik do ledów i nauczymy obsługi wszystkich systemów.
W pełni bezpieczne oświetlenie imprez, dyskotek i parkietów
Oferowane przez nas urządzenia służące do oświetlenia są bezpieczne w użytkowaniu. Zarówno ekran ledowy, jak i wytwornica ciężkiego dymu mogą pracować przez wiele godzin z dużym natężeniem. Pragniemy ograniczyć koszty eksploatacyjne naszych klientów, dlatego wybierane przez nas projektory, wyrzutnie CO2 i różnego rodzaju oraz rozmiaru oświetlenie np. tuba LED, są energooszczędne. Można więc bez obaw o nadszarpnięcie budżetu używać ich nawet przez całą noc. Do oświetlenia LED proponujemy dopasować sterownik RGB, który wychwytuje dźwięki i dzięki temu jest w stanie automatycznie stworzyć piękne animacje. Dopasowane do muzyki efekty uświetnią każdą imprezę.
Profesjonalny sprzęt sceniczny
Korzystając z naszej pomocy, będą Państwo w stanie kompleksowo uświetnić swoją imprezę! Oprócz oświetlenia klubowego (między innymi naświetlaczy RGB czy tub LED) najczęściej klienci decydują się także na montaż ledowych ekranów reklamowych. Nasze usługi obejmują także przymocowywanie takich akcesoriów jak wyciągarki sceniczne i wytwornice dymu. Zapewniamy, że zarówno instalacje oświetleniowe, jak i urządzenia laserowe wykonane są z najwyższej jakości elementów, dzięki czemu nie muszą się Państwo martwić o przykre niespodzianki w trakcie eventu.
Instalacje oświetleniowe i nagłośnieniowe to nasza specjalność!
Jeśli poszukują Państwo wytwornic dymu, sterowników, naświetlacza RGB czy oświetlenia LED, chętnie podejmiemy się każdego wyzwania! Ponadto nie ograniczamy się do działań tylko w Tarnowie, zapewniamy oświetlenie LED do klubów na terenie całego województwa małopolskiego. Zapraszamy do biura naszej firmy JupiterTech lub kontaktu telefonicznego. Odpowiemy na wszelkie pytania i rozwiejemy wątpliwości!